29
Apr
Robert Farnon's 'Prelude to the Lake of the Woods
Written by Len Mark
On February 25th 2016, a performance of Robert Farnon's 'Prelude to the Lake of the Woods was given in Kenora, Ontario, Canada.
Our concerts are held in Knox United Church in Kenora, Ontario. The orchestra is the Thunder Bay Symphony. Thunder Bay is 550 km east of Kenora; it is part of their mandate to perform in the smaller communities in Ontario.
We have had the orchestra perform here for over 35 years. This concert featured the composition by Robert Farnon,entitled Prelude to the Lake of the Woods, which is where Kenora is situated. The lake features 14,524 Islands and goes as far south as Minnesota in the USA.
The composition by Robert Farnon was found in the archives of the local museum. We couldn't find the individual parts anywhere, so we had the score transcribed for the Symphony. This was a very successful evening as it not only featured the music but outstanding photographs of the lake area.
We are not 100% sure that Robertever visited the area, however, after setting the music to the photographs we have convinced ourselves that he must have. The pictures were shown on a large 75" TV sitting on top of the organ console that is visible in the right corner of the photo.
Len Mark
April 2016
28
Apr
Alan Bunting 1939 - 2016
Written by New User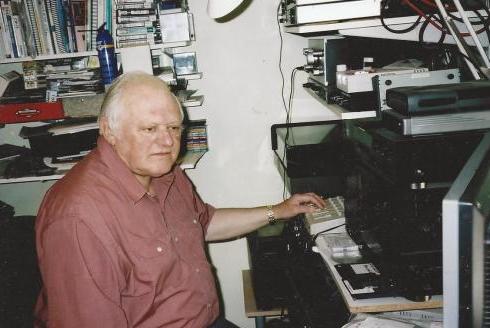 Alan Bunting was born on 1st August 1939, in Blackminster, Worcestershire. What was destined to become a lifelong interest in music began at a very early age, and after leaving school he worked for a time in a record shop.
His military service was spent in the Royal Air Force, where he trained as a ground crew communications technician, and upon discharge he joined the BBC, initially working in Cardiff, South
Wales. By 1969, he had moved to Scotland, where he eventually became an Audio Manager for the Corporation in Glasgow.
After around thirty years' service, he was offered an early-retirement package, and this enabled him to set-up ABCD Enterprises, to specialise in digital restoration and re-mastering of audio recordings.
The following years would see him undertake work for many record companies, particularly those which were involved in the re-issue of vintage and back-catalogue product. These include such labels as Living Era, Naxos, Must Close Saturday, Retrospective, HEP, Memory Lane, Jasmine, Cherry Red, Sackville, Spotlite and Mastermix, encompassing a wide range of musical genres.
In 2004, together with the late David Ades, Alan was instrumental in the establishment of the Golden Age of Light Music series of CDs for the Swiss-based company Guild Recordings. Although it was initially envisaged that he would be mainly involved in carrying-out the digital restorations, Alan soon brought his considerable knowledge of Light Music to bear upon the repertoire side of the series as well. As time went by, the project virtually became a 'joint venture' between the two men.
It is doubtful if the phenomenal success of this series could have been foreseen at the time of its inception, but to date a total of 135 discs has been published, containing well in excess of three-thousand tracks – a unique and magnificent achievement.
After the sad death of David Ades in 2015, Alan assumed overall management of the series, and it was agreed that I would assist him, writing the booklet notes and contributing to the choice of repertoire. We soon established a good working rapport, and as a result of this new collaboration, a total of seven further CDs was produced. We were in regular – frequently daily – contact, discussing new ideas and planning for future releases.
Alan owned a huge collection of recordings, largely in LP format, and was constantly on the lookout for more material. He was particularly interested in the career and music of the Canadian conductor and arranger Percy Faith, of whom he had an encyclopaedic knowledge, and was responsible for creating the much-acclaimed Percy Faith Discography, containing copious information about Faith's enormous recorded canon.
Alan also made significant contributions to the discography of fellow-Canadian composer, arranger and conductor Robert Farnon, and was an enthusiastic member (at a distance) of the Robert Farnon Society. When the latter ceased operations in 2013, a number of former members helped me to set-up the London Light Music Meetings Group to continue the twice-yearly events, and Alan was very encouraging about the new venture, taking a great interest in its progress.
Over the years, Alan developed consummate skills in the art (and science) of audio restoration. He used a number of proprietary hardware and software systems, including the well-known CEDAR. He was always striving to improve his techniques and would often spend hours to eliminate noise, clicks, pops and blemishes from an individual track.
He came to be regarded as one of the very few top UK specialists in this field and was held in high esteem by his many friends and colleagues in the industry. When his wife Janet sadly passed away about six years ago, he threw himself back into the work he loved so much, regularly working through the night to meet deadlines.
Alan suddenly became ill just before Christmas 2015, and as his condition worsened, he was admitted to hospital at the beginning of January 2016. Although the cause of his severe infection was never fully established, he was discharged about two weeks later, even though he was still quite
unwell. Although in increasingly severe pain, he immediately resumed work, and was able to finalise the fourth-and-final volume of '100 Great American Light Orchestras ' for Guild; this was one of the last tasks he undertook before he collapsed once again and was re-admitted to hospital. Sadly, his condition continued to deteriorate and he passed away on March 16th.
Because of the great geographical distance between us, Alan and I never actually met, but through emails, and particularly telephone calls, we struck-up a good friendship over several years, and discovered that we had a number of common interests in addition to our shared love of music.
We are very fortunate that Alan has left us a wonderful legacy in the form of all his audio restorations. The world of recorded music is greatly impoverished by his passing, and I'm sure that I speak for very many when I say that he will be greatly missed.
Our sincere condolences are extended to his sons David and Gareth, his daughter Jane and his grandchildren.
Tony Clayden © April 2016
Footnote: Volume 4 of 'Great American Light Orchestras' is scheduled to be issued later in 2016, and arrangements are in hand to continue the Guild 'Golden Age Of Light Music'.
Overtures from the British Isles, Volume 2
Chandos CHAN 10898
BBC National Orchestra of Wales conducted by Rumon Gamba.
22
Apr
Neeme Järvi conducts Ibert
Written by Peter Burt
Orchestre de la Suisse Romande Chandos CHSA 5168

This is I, Burt reviewing Ibert [sorry about that!] Jacques Ibert, ...
21
Apr
Lake of the Woods - Robert Farnon and His Orchestra
Written by Wayne Kelso
When I first came to England from New Zealand in 1957 with my family, one thing I was determined to do was to meet my idol of music, Robert Farnon. But it wasn't as easy as I had imagined. As time went by, for one reason or another, it was becoming increasingly obvious that I might miss him. Undeterred by this possibility, I then decided to take the bull by the horns and just present myself at his Gerrard's Cross home. Nervously knocking on the door and not knowing what to expect, suddenly he appeared looking just like the photograph he had originally sent me. I needn't have worried though because after an extremely warm welcome I was invited in and given a signed copy of his LP "Pictures in the Fire". Mission accomplished!
More...
Notes and Suggestions for a Performance of Camarata's Rumbalero